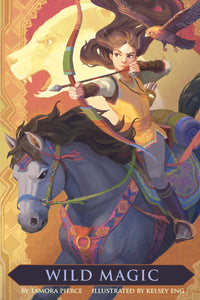 A highly detailed painting of Daine from the imagination of Kelsey Eng. You can see Numair in his hawk form, Badger god in the background, his claw on a  pendant around her neck, and her pony Cloud.


PRODUCT DETAILS
17x13"

Framed

This product ships with its frame in a flat rate box*
ARTIST DETAILS:
Kelsey Eng is an artist from CA & NY. She has worked on projects for Cartoon Network, Nickelodeon, Dreamworks TV, Crunchy Roll, and Scholastic. Kelsey's work can be found on Instagram and on her website.
EVENT DETAILS:
Dual Wield Studio is a two-person team based out of Seattle built on one goal: Make things we love for the things we love. We want to create merchandise that we're excited for - whether it's for an IP that we're a fan of, or an original design that we think looks beautiful. But beyond that, we want to use it as an opportunity to help our communities. Our partnership was formed out of a shared desire to bridge gaps between IP holders, fans, and independent artists. 
By purchasing one of these items you're helping us do more events like this in the future, but more than that: you're directly supporting the freelance artist community. At least 60% of the profit goes directly to the artist. 
Want to learn more about us? Visit our About Us or our product catalog. Want to make merchandise but don't know where to start? Check out our Partnerships page.