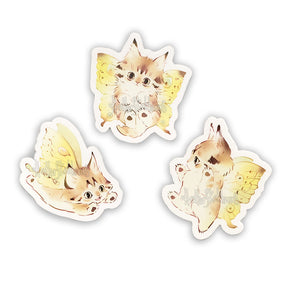 These little kittens only have two states: Soaring through the air at stop speed, or sleeping like a log. Make sure you have a comfy space for them to sneak in lots of cat naps! Take home Fisher, Felix, and Fritz with this bundle!
PRODUCT DETAILS
Includes 3 kitterfly stickers (no duplicates)

Dye-cut vinyl

Each stickers approximately 2 x 2 in / 5 x 5 cm

All sales final for this bundle - We cannot accept refunds or exchanges
CREDITS

Find Heather's comics and more from her whimsical world here!