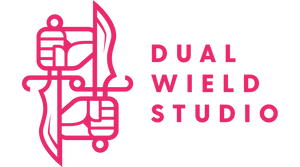 Become a featured creator in The Armory, a section of the Dual Wield Studio email blast dedicated to helping creators like you reach new potential clients, collaborators, and more!
Being a content creator on the internet presents unique challenges. Marketing yourself online is a skill in and of itself, and finding audiences through social media and convention circuits requires a lot of time, energy and money.
We're passionate about freelance creations and the people who make them. And, coincidentally, we're really into marketing, too. So we want to try something: to market you to our fans and other creatives, in hopes that we can put folks like you on the radars of people who will be as excited about your work as we are. This helps us grow as well, and allows us to work with a wider audience of creators in a variety of ways.
How does it work?
Dual Wield Studio sends out a monthly newsletter to over 3,000 subscribers to highlight our products and other news. We will have a section to feature artists, writers, and other creators with examples of their work, where to follow them online, and the services they offer.
What are the rules?
All creations must be original.

No unlicensed fanwork.
The information about you, your product(s) or service(s) is recommended to be an image asset. For writing and other commissions, we recommend creating an image that fits our guidelines. For an additional fee, we can help you create an item for this.



Handmade items are on an approval basis, as these works can be difficult to showcase in an email format. Perler beads, glasswork, knitting/crochet, candles, food, and the like are discouraged and may not be featured.
Your minimum cost of sale for prints, commissions, etc, should be at least $10 USD.
Art must have a title, a price, and be produced by the submitter.  No submitting your friend's work on their behalf!
You must include your social media handles and/or website.  We want our audience to find you.
You will need to sign a contract giving us permission to publish, distribute, and, if necessary, edit your artwork for the purpose of formatting and/or distributing. You will receive this contract via email attachment. 


We reserve the right to decline for any reason and will absolutely refund your money if that occurs. 


We reserve the right to cancel/reschedule as needed & will communicate when/if this occurs.
Other important terms to note:
If you're interested and your item(s) rules above, please purchase registration.  Not sure if you do? Send hello@dualwieldstudio.com an email to check and confirm.
Each monthly feature is $4 USD. This is for maintenance of the email distro service, paying someone to organize/maintain it and mailing lists, submitted files, etc.
Once you've done that, you'll get an email with a contract, instructions, and a form for you to fill out. Don't worry, our goal is to make the whole process as easy and seamless as possible!
PRODUCT DETAILS
Current subscriber count (March 2020) 3300

1 PDF including contract (return as soon as you receive)

1 PDF including submission instructions + submission link.
CREDITS
Rowan Rowden
Alisha Putz for setup, implementation, organization.
Dana Rudnitsky for copyediting, implementation, organization.